LOST AND FOUND PRESENTS:
The Luther500 Festival

The Luther500 Festival is a seven-day cultural-immersion experience that brings the Reformation to life as you serve, learn, and celebrate in the places where Martin Luther did the same 500 years ago. This pilgrimage to Germany will help revitalize schools, congregations, and personal faith journies as participants come face to face with the breadth and importance of the Reformation, make new friends, connect with their heritage, and experience first hand how Church history can be a whole lot of fun.
How Will You Celebrate the Reformation Jubilee?

In 2017, you have the choice of three different weeks to accommodate your group's schedule.  All three festival weeks, May, June and October have the same content -- full of insight and discovery, new friends, and plenty of fun.
Housing options
There are two main housing options:  The Conference Center or a Hotel.  
The Hotel option is pretty easy to understand.  We use a few different Three Star hotels in Wittenberg.  They are very nice with all the amenities you'd expect in a standard hotel.  
In choosing your housing option, here is what you need to know about hotel rooms and beds in Germany.  Each person in a hotel room has a bed.  In the US, it is common to put three or four people in a two-bed room.  German hotel laws, however, require that each guest in a room has a bed.  Of course, the beds are what in the US would be called "singles," or "twins."
A "double bed room" comes with one large bed for two people. Some hotels simply push two singles together.
A "two bed room" ("1 + 1" in our reservation system) is two separate single beds, mostly with a coffee table in between: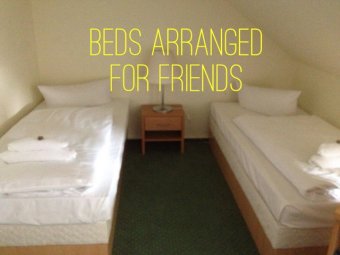 Th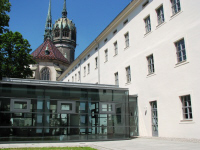 e Conference Center, a portion of the Castle in Wittenberg, just steps from the Castle Church, opened new in 2007 after major renovations. The building has forty guest rooms of varying sizes, meeting rooms, a glassed-in lobby, and a dining room.  Each guest room has a private bathroom and shower just like a hotel.  The difference is that the rooms do not have televisions, hair dryers, robes and so forth. And each bed is a single bed.  Here are some photos of the Conference Center, from the outside, and some of the guest rooms in the conference center followed by typical hotel-room bed set ups.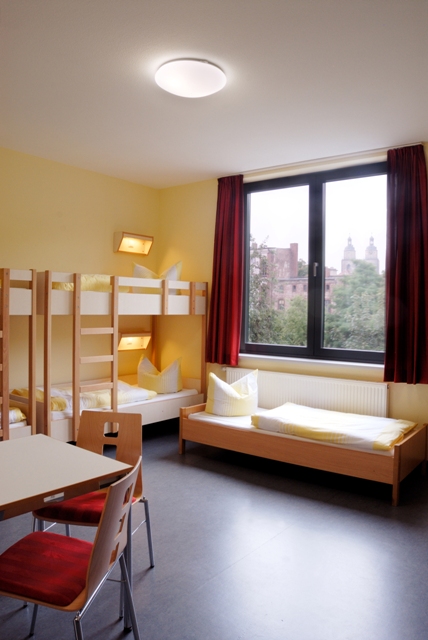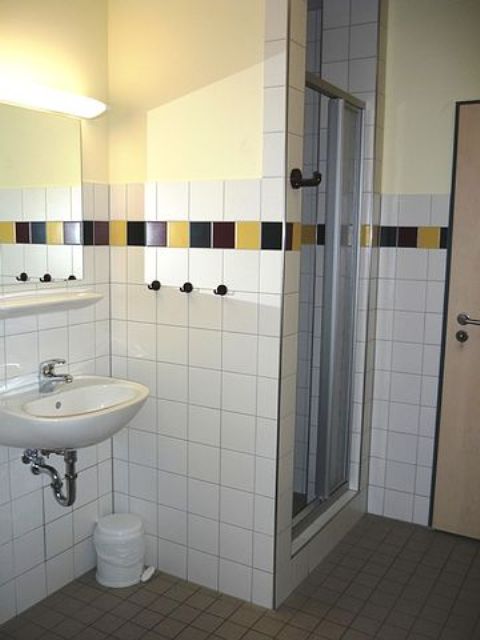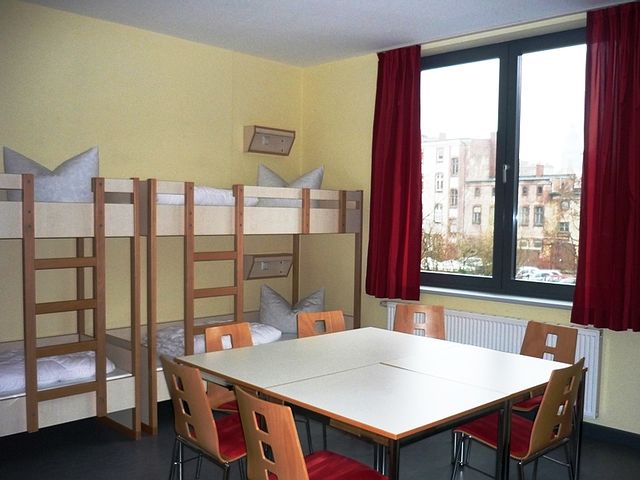 So, in the hotel there are mostly one-person and two-person rooms.  In the Conference Center the rooms have three, four, five, six or even seven beds to accommodate families, friends, or youth groups.  You just choose the room you'd like based on the housing preferences of your group.  A family of four would reserve a four-bed room.  A group of six friends might reserve one of the six-bed rooms.  It's that easy.  Each bed in a room requires a registration. That is, to book a four-bed room you would also need to purchase four registrations.  Single rooms are only available with the Hotel option.
Housing options are subject to availability. The conference center has a limited number of rooms of each configuration.
Why not join one of the Post-Festival Tours?
Start registration:  May 29- June 4, 2017  |  June 19- 25, 2017  |  October 2- 8, 2017